---
About Window Tinting
What is Window Film?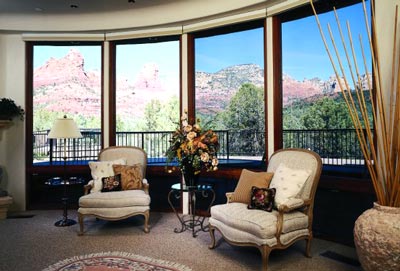 Today's sophisticated window film provides an efficient as well as economical solution to solar problems. The product is a micro thin, high-tech laminate of polyester film combined with minute particles of metal, bonded by distortion-free adhesives and have an optically clear scratch-resistant coating. It is designed to deal with the individual wavelengths of the sun's energy in such a manner as to curb heat passing through the glass (infrared), control light transmission and virtually eliminate ultraviolet radiation, the main cause of fading.
The Llumar Product...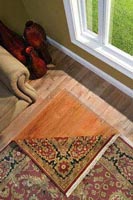 Llumar® Window Film is a high-performance line of window film products highly recommended by the design community. Their appearance and high level of optical clarity make them popular for use in residential and commercial buildings. At 99.9%, Llumar® Window Film has the highest level of ultraviolet rejection (both UVA and UVB)! Llumar® solar control window film distinguishes between the sun's light and the sun's heat. It screens out heat and ultraviolet rays while allowing visible light to pass through the glass. When applied to the interior of your windows, the film can reject up to 78% of the sun's heat and cut a substantial amount of the sun's glare. There are also two Low-E Llumar® films that improves the emissivity of glass as well.
When professionally installed, most Llumar® films come with a lifetime warranty for residential and a fifteen year warranty for commercial.

Features and Benefits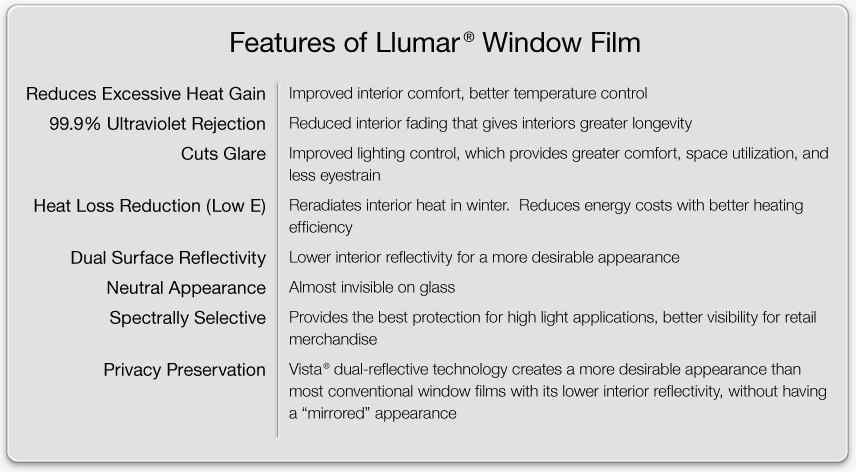 Protect Your Furniture from Fading!
Fading Occurs whether exposure is from intense sunlight over a short period of time or weak sunlight over a long period of time. While fading is inevitable, severe fading can be minimized with the use of Llumar solar control window Film.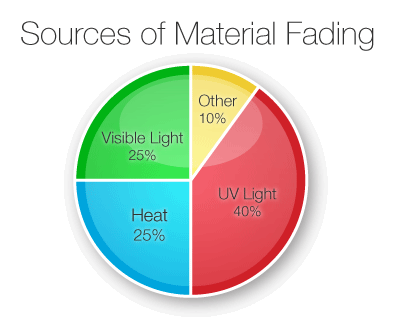 Are you someone who could benefit from Llumar window film?
Do you have trouble sitting next to your windows at certain times of the day?
Do you need to keep your draperies/blinds/shutters closed to protect your furnishings?
Is your home hot on one side and cold on the other?
Do you need to put sunglasses on to sit in your favorite room?
Do you have to look at your view through blinds because it's too bright?
Did you notice that your draperies and furnishings are fading?
Are you wary of UV radiation and its impact on skin cancer?
Do you have to close your draperies/blinds/shutters to watch your television?